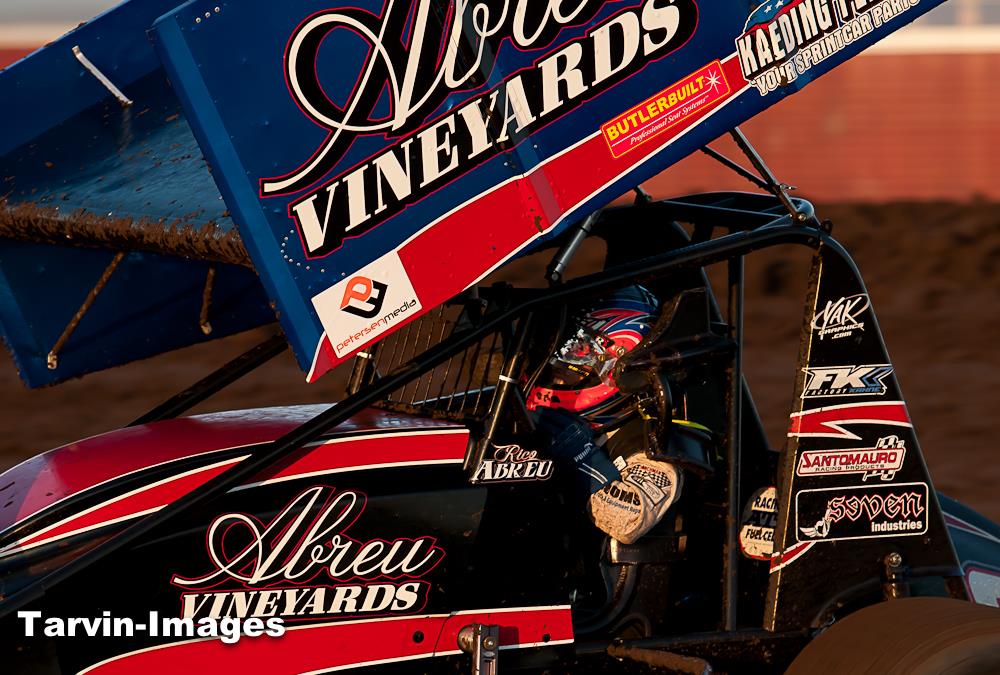 ---
Two Season Finale's On Tap for Abreu
PETERSEN MEDIA: After a rather rough weekend during two nights of action last week, Rico Abreu and his Abreu Vineyards/Kaeding Performance team will get back to action this weekend as they go to battle during the Taco Bravo Series finale on Friday at the Ocean Speedway before they head to Giant Chevrolet Kings Speedway in Hanford, CA on Saturday for the Cotton Classic, and the series finale for the King of the West Tour.
Last week at Ocean, Abreu got over zealous on the first lap of the feature as he hopped the turn three cushion on the first lap and backed his SCI/Factory Kahne Shocks/ButlerBuilt backed entry into the fence ending his night.
Though the damage kept him on the sidelines Friday, Abreu was still able to head to the Tulare Thunderbowl last Saturday to close out the ASCS So Cal inaugural season.
Abreu's night ended on the white flag lap as contact with a lapped car sent him into the turn one wall as he got upside down.
Repairs have been made, and Abreu is ready for the first of his final two weekends of the 2011 campaign.
Heading into the final night, Abreu sits third in Taco Bravo standings behind Tommy Tarlton, 35 points behind him for second. Though he would be excited to grab the second spot, the rookie driver is focused on picking up his first win in a winged sprint car.
"We've been pretty good at Ocean all year and I would like nothing more then to grab a win during our last race there," said Abreu.
Saturday night the scene shifts to Hanford, CA as Abreu will bolt in his 410ci power plant for the KWS season finale.
During the most recent KWS event on August 6th in Hanford, Abreu picked up a heat win, before being sidelined in the feature witch mechanical woes.
"The KWS races are always fun because of the high caliber drivers that follow the series," explained Rico. "Hanford is a big, fast track, and the track I made my sprint car debut, so hopefully we can put together a good run."
Abreu would like to thank Abreu Vineyards, Kaeding Performance, Stadlehofer Construction, Factory Kahne Shocks, Sprint Car Innovations, Santomauro Racing Products, ButerBuilt, Swift Metal Finishing, and 7 Industries for their continued support.
ON TAP: Rico will return to action for the Taco Bravo Series finale at the Ocean Speedway on Friday, October 14th, before taking part in the Cotton Classic with the King of the West Series on Saturday, October 15th.
STAY CONNECTED: Stay updated with Rico by visiting his website at www.ricoabreuracing.com, 'liking' him on facebook at www.facebook.com/ricoabreuracing or following him on twitter @RicoAbreu24.
VIDEO: Be sure to check out http://www.youtube.com/ricoabreuracing for video of Rico, as content is constantly being uploaded!
MERCH: Don't forget to stop by and visit with Rico after the races and pick up a 2011 Rico Abreu T-shirt!
PETERSEN MEDIA: Petersen Media specializes in motorsports media constructing news releases, both pre and post race, as well as constructing email lists to keep sponsors, and fans up to date. Petersen Media also utilizes today's Social Media networks to provide trackside updates to fans and sponsors, and can customize packages to fit your teams needs.
For more information contact sales@petersenmediainc.com, by phone at 916-342-3424, visit www.petersenmediainc.com, www.facebook.com/PetersenMedia, or follow www.twitter.com/petersen_Media.
---
Submitted By: Petersen Media
Back to News