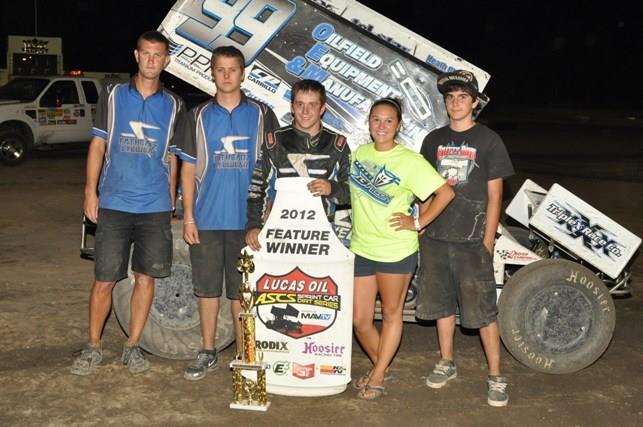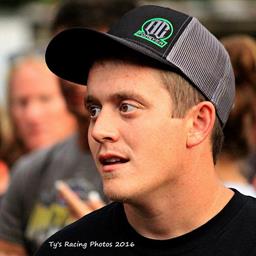 ---
Brady Bacon – Kings Speedway King!
(Bill W) July 31, 2012 – Brady Bacon picked up a win in a new venue on Saturday, the Kings Speedway in Hanford, California. The Broken Arrow, Oklahoma was victorious in Lucas Oil ASCS National Series action, and also picked up a second place finish on Sunday at the Santa Maria Speedway. He will trek 1800 miles to compete in the Knoxville (IA) 360 Nationals this week.
Things started well in the heat race at Kings, but Brady thought there may be some serious issues. "We had a good heat (4th to 2nd) that put us in the redraw," he says. "We did have a motor issue starting in the heat race. We didn't find it. We changed the rear-end, thinking that might be the problem. That allowed us to not change the motor, and we were able to start on the front row."
Pole-sitter, Wayne Johnson took the early lead. "Wayne got out there," says Brady. "We followed him for awhile before we were able to get by him. In lapped traffic, we were running the bottom really well. Everyone was on the top in three and four. We could really do either, so we were able to get by him in the middle of one and two in lapped traffic."
The Brady Bacon Racing #99 was able to lead the rest of the way. "I just kind of held everybody off from there," says Brady. "The motor had a bit of a miss in it. We actually found the problem later. It was a ground wire issue that made the motor miss just a little bit. We were able to hold (Jason) Meyers off and get the win, so it was a nice race for the Western swing."
Things had started on Thursday night at the Placerville (CA) Speedway. "We were really good in the heat (winning it)," says Brady. "My bad draw skills lined us up eighth in the feature. I just got caught up. A guy in front of me got sideways, and I got hit from behind by another one. That bent the left rear wheel, so we had to bring it in and change it."
Brady would end up 14th at the checkers. "From there, we just kind of rode around the back," he says. "It was hard to pass. We did miss a big pileup later on that involved six or seven cars. It's not the finish we could have had, but it could have been a lot worse."
Sunday at Santa Maria, Brady finished third in his heat after starting fifth, and drew the pole position for the main event. "We were pretty good from the beginning of the race," he says. "I had a shock going bad. It may have even happened in our accident at Placerville. It gave up on us. We just didn't have any rebound in the left rear."
Brady's lead would evaporate, and he would end second. "When I tried to run the top, it would bounce and hike up," he says. "We were definitely holding on. I wish we had that going for us, or we may have won there too. Brad (Loyet) was very fast. He got his first national win and definitely earned it. He passed everyone on top. We just had to hold everyone off and settle for second."
Brady will qualify Thursday for the 360 Nationals. He will also put the 410 in and tackle the 1st Annual "Capitani Classic" on Sunday at Knoxville. The busy period will end with the Ulimate Challenge at the Southern Iowa Speedway in Oskaloosa on Monday and Tuesday before the 52nd Annual Goodyear Knoxville Nationals. "We're set for Thursday," he says. "We've got a fresh motor we're putting in. We have everything ready to go for the 360 Nationals, and the Southern Iowa Sprint Week following that."
Follow Brady on his Website, Twitter and Facebook!
Follow Brady at his website located at www.BradyBaconRacing.com! Also keep up with him on Facebook and Twitter (which also can be accessed at the website) at the following links…
Twitter Link – http://twitter.com/BradyBacon
Facebook Link - www.facebook.com/pages/Brady-Bacon-Racing/278125555137
Partner of the Week – Oilfield Equipment and Manufacturing
Oilfield Equipment and Manufacturing, headquartered in Shawnee, Oklahoma, specializes in quality oilfield services, drilling and steeping. Give them a call today at 405 275-4500!
Associate Marketing Partner of the Week – Schroth Racing
Schroth is at the forefront of safety in all forms of competitive motorsport. Their harnesses have an engineering advantage over the competition, and feature solutions to common installation pitfalls. Schroth's Tuning line of belts offers the world's only aftermarket harnesses that meet the requirements of the DOT. All belts mount to factory locations to utilize the engineering that's already gone into your car. Visit them today at www.SchrothRacing.com!
If you would like to receive Brady's weekly releases, send an e-mail to sprntcar@hotmail.com with the subject "Brady".
Brady Bacon Racing would like the following sponsors for all their help: Fatheadz Eyewear, Oilfield Equipment and Manufacturing, Tel-Star Communications, PPM Titanium Products, Triple X Race Co., Infinity Shocks, Smiley's Racing Products, Heath Clips Lawn Care, Keizer Aluminum Wheels, Tru-Square, Eaton Industrial Coatings, Pattison Precision Products, Wesmar Racing Engines, Butlerbuilt Seats, Hoosier Tire Southwest, Diversified Machine Inc., Brown and Miller Racing Solutions, Lightning Wings, Simpson, Pro Pan, CP Pistons, Schoenfeld Headers, Carrillo Rods, KSE Steering, All Star Performance, King Racing, Schroth Racing, FSR Radiators, Three-wide Clothing and Fuel Safe.
---
Article Credit: Bill W
Submitted By: Admin Account
Back to News