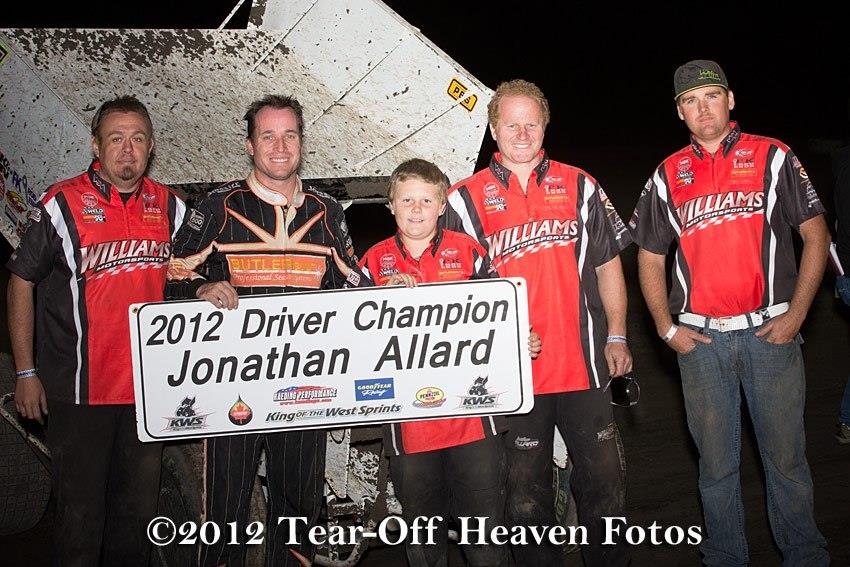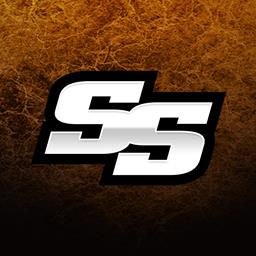 ---
TK earns 60th Golden State KWS win/ Allard is 2012 King of the West champ
(Chico's Jonathan Allard wrapped up the King of the West Series title for his third championship since joining Williams Motorsports in 2005. Photo by Steve Lafond)
Late race move nets Tim Kaeding 60th career Golden State/ King of the West main event victory on Saturday at the "Cotton Classic"
By Gary Thomas
Hanford, CA – October 13, 2012…Kyle Larson's misfortune was Tim Kaeding's gain at the Kings Speedway on Saturday during the 27th annual "Cotton Classic" in Hanford. The 20-year-old Elk Grove native took the lead on lap-seven, but fuel starvation on a green, white, checkered restart allowed the "TK Express" an opportunity to gobble up the lead that he wouldn't relinquish.
In front of a packed house Kaeding crossed the line by 0.986 seconds to record his sixth King of the West Sprint Car Series win of the season over two-time World of Outlaws champion Jason Meyers and 2012 KWS titlist Jonathan Allard. It was also the 60th combined Golden State/ KWS win of Kaeding's career, making him the second driver to reach that mark, joining father Brent Kaeding who has 84 wins to his credit.
"It's been a great season for us and I can't say enough about Dennis & Teresa Roth for giving me the opportunity of a life time to drive this 83 car," said Kaeding, who helped Roth Motorsports wrap up the KWS car owner title for the second straight year. "My guys have given me a great car all season long and Kyle Hirst has done a great job for us as well, so it feels good to give Roth Motorsports another owner's championship. I also want to thank all the fans for coming out tonight and supporting KWS."
Kaeding started from the pole by way of winning the KSE Racing Products Dash and when the green came out he would jump into the lead aboard his HR Cattle No. 83 mount. "TK" had his way out front over the early laps, but on a lap-six restart outside front row starter Kyle Larson sliced to the inside off turn four and took the lead. Various yellows would slow the pace at times, but all along Larson was able to maintain a steady advantage out front until the final laps started to approach.
Lapped traffic allowed Kaeding the chance to close and the San Jose driver charged hard after Larson looking to find a way back by. With only five-circuits remaining Kaeding hounded the bumper of the Finley Farms No. 77, but just when it looked like it'd be a shootout in thick lapped traffic, the yellow lights came on to set up a green, white, checkered restart.
During it Larson led the field into turn one, but off the second corner it was Kaeding who made a quick move to blast by and take command as the 77 car was running low on fuel. "TK" then charged off to score his second career 410 "Cotton Classic" victory at the Kings Speedway and give himself momentum heading into the annual "Trophy Cup" next week. Larson was ultimately able to limp the car home and cross the checkered flag in the eighth spot.
Coming home second at the finish was Clovis, California driver Jason Meyers, who was making his first 410 Sprint Car start in his home state since March. "We haven't raced a whole lot this year, but I can't say enough about this Tarlton & Son team and want to thank them for allowing me to drive such a great car," commented the two-time World of Outlaws champion. "It's great to see so many people come out tonight for the Cotton Classic and we always love racing at Kings Speedway."
Rounding out the podium and becoming the 2012 "King of the West" was Jonathan Allard, who finished the season with four wins, ten top-five's and a series leading thirteen top-ten's. The Chico native started 11th in the feature and methodically picked his way forward to claim another solid finish.
"This is just a great accomplishment for our whole team," said Allard, who has now won three state 410 titles since joining Williams Motorsports in 2005. "I wish we could have got a few more wins, but that's part of racing and we're happy with how the season went. I can't thank Morrie & Katie Williams and all my guys enough. I also have to thank Dan Simpson and the King of the West Series because we have a great organization and it's the best thing going out here. Seeing all these great fans is what makes it so much fun for all of us."
Sacramento's Kyle Hirst ended the feature in fourth while making his fifth start of the season for Roth Motorsports. The talented driver scored top-five finishes in every event that he drove for the team and has put together one of the best seasons of his career. Hirst in fact scored the third most top-five finishes with KWS this year, behind only Jonathan Allard and Tim Kaeding.
Completing the top-five and earning the Pit Stop USA Hard Charger Award in the main event was Visalia's Cory Eliason aboard the Elite Acid No. 00x sprinter. The youngster charged from 16th to fifth in the 30-lapper and is always a great addition to the roster whenever he signs in at the back gate. The remainder of the top-10 was comprised of Elk Grove's Bobby McMahan, Scotts Valley's Evan Suggs, Larson, 20th starter Jason Statler of Grass Valley and young Carson Macedo of Fresno.
Winning the 12-lap Last Chance Qualifier with a late race pass was Sacramento's Willie Croft and claiming the KSE Racing Products Dash was Tim Kaeding. The four ten-lap Kaeding Performance Heat Races were picked off by St. Helena's Rico Abreu, Fresno's Craig Stidham, Bobby McMahan and Jason Meyers. Scoring his first BR Motorsports Fast Time of the year to begin the night was Abreu, who blistered the Kings Speedway in 13.361 seconds to beat out a 32-car field. Abreu became the 12th different driver to set fast time with KWS in 17 events this season.
On behalf of everyone involved with the King of the West Sprint Car Series we'd like to thank everyone for their support this season because it truly is appreciated! Please stay glued to our website and social media outlets for updates throughout the off-season. We'd also like to wish all teams competing in next week's "Trophy Cup" at Thunderbowl Raceway the best of luck. We look forward to seeing everybody at the KWS Banquet in November at the Jackson Rancheria. Tickets are still available by calling our office at 707-374-2222.
Our official website can be found at http://www.kwssprints.com and don't forget to "like" the King of the West Series on Facebook at http://www.facebook.com/kingofthewestsprints and follow us on Twitter @kwssprintracing for the most timely and up to date information on the series. Also subscribe to us on You Tube at http://www.youtube.com/user/kingofthewestsprints
---
Article Credit: Gary Thomas
Submitted By: Gary Thomas
Back to News