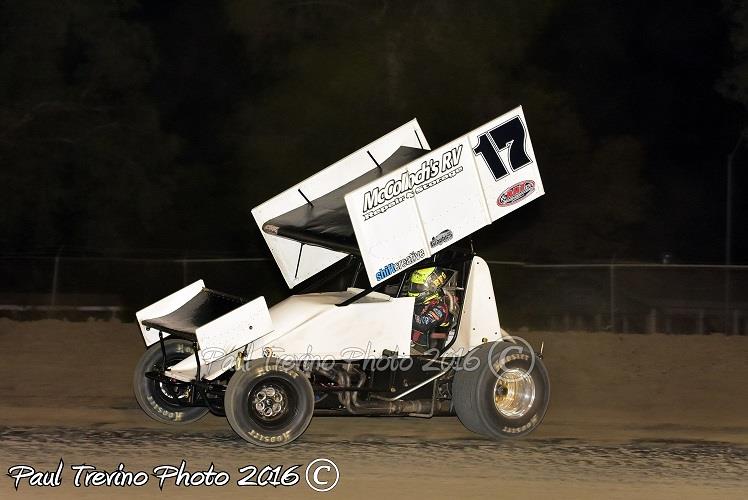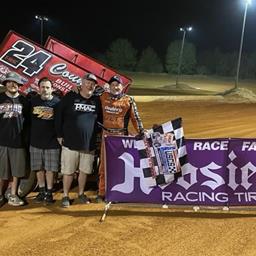 ---
Tuesdays with TMAC – Walking in High Cotton!
Tuesdays with TMAC – Walking in High Cotton!
(Bill W) October 18, 2016 – Plans for the NorCal Posse Showdown were a wash at Placerville Speedway in California, so Terry McCarl headed to Hanford's Keller Auto Speedway and its Cotton Classic last weekend. Friday night, the Altoona, Iowa driver charged from 19th to third in the McColloch #17 in 360 competition and Saturday, with the King of the West Series, he would drive the Country Builders Construction #88 from 16th to eighth. The team will now ready for the Trophy Cup October 26-28 at Thunderbowl Raceway in Tulare.
Friday marked the first time TMAC had driven for the McColloch's. "Nick McColloch and his Dad Kerry allowed me to drive their car on Friday," he says. "Anytime you jump into someone else's car, you want to learn something. I didn't feel comfortable qualifying and I kind of screwed up there. We were 25th quick, I think."
After finishing fifth in his heat, he lined up tenth in the B. "We were able to get up to third," says TMAC. "Every time I went out, I felt better in the car. We continued to make changes. They have an ART chassis and a Wesmar engine, so they have good stuff. I like when we 'mechanic well', and I think we did that as a team. We were faster as the night went on."
That speed continued in the main event, and TMAC charged from 19th to third. "They went out and reworked the track after the B," he says. "It had been getting slick to a pretty treacherous ledge. They took that and made a good top and bottom. We just had a great racecar, and we were able to utilize the track they gave us. We had a great time, and I appreciate them giving me a chance to drive their car."
It was time for 410 action in the #88 on Saturday. "Qualifying 15th quick actually put us in a great position," says TMAC. "We started on the pole of the heat, and heat winners make the Dash. We should have been able to do that, but I didn't pay good enough attention to how they start their races. They have a box situation, and I thought it was the white line. I misunderstood how their starts go, and they penalized me a row for jumping. That ended our opportunity to make the Dash."
After finishing third in his heat, TMAC lined up outside row eight for the feature. "We were pretty good," he says. "It was rough in one and two on the bottom, but it was a fun track. There wasn't just one line. You could run about anywhere depending on where your car was set up. The track stayed a little better than the night before and we were a little tight. We were battling around the sixth position late in the race. I got stuck on the bottom and we were passed for seventh by one-thousandth of a second."
His confidence is growing and the team is readying for the Trophy Cup next week. "We came from 16th to eighth, so we felt good about it. We were back in our Maxim, and hanging with Dan (Musselman) at Granite City last week really helped us with some things to make us comfortable in the car. I don't know when the last time we were at Hanford was, but I really like the track and I look forward to coming back. It was one of my favorites when we lived out here in the 1990's. We're looking forward to the Trophy Cup now. With the new Moyle engine we have, I'm excited. It's an ASCS engine and they run open ones out here, but I think Jaymie has an awesome engine that can run with these guys."
Price Chopper/Hiland Dairy Join the Team!
Price Chopper and Hiland Dairy on the newest partners of the TMAC Motorsports #24 team. They were also the title sponsor for the 21st Annual Front Row Challenge at the Southern Iowa Speedway in Oskaloosa.
McCarl Family Websites!
Driverwebsites.com develops the websites for the McCarl boys. Check out www.TerryMcCarl.com, as well as www.AustinMcCarl.com and www.CarsonMcCarl.com!
This Month in TMAC History!
This week in 2000, TMAC won in USCS (United Sprint Car Series) action at Volusia Speedway in Volusia, Florida. He drove the Mulligan #3 to the win over Kenny Adams, Mike Woodring, Sport Allen and Terry Witherspoon. In five career starts with USCS, TMAC has never finished outside of the top five and has two wins. His other win also came at Volusia in 2001, as he topped Terry Gray, Adams, Jim Raptis and Allen.
"Tuesdays with TMAC"!
"Tuesdays with TMAC" is an up close and personal look at colorful sprint car veteran Terry McCarl. To receive "Tuesdays with TMAC", send an e-mail to sprntcar@hotmail.com with "TMAC" in the subject line.
TMAC Motorsports would like to thank sponsors SnowPlow Snow Pushers – www.TheSnowPlow.com, Country Builders Construction, Rossie Feed and Grain, Bosma Poultry, Destiny Motorsports, Price Chopper, Hiland Dairy, Searsboro Telephone Company, Elk Grove Ford, A.R.T. Speed Equipment, Berryhill Racing, Phil and Vivian, Justice Brothers/Gillund Enterprises, Vortex Racing, Hoosier Tire, Chris Spaulding – Attorney at Law, SuperFlow, Schoenfeld Headers, Rens Trucking, NutriShop – Maple Grove, MN, HRP, All Pro Cylinder Heads, Maxim Chassis, Bob and Beulah Elder, Engler Injection, Snap On Tools, Sposato Paint, Winters, Kilani Fender, Inc., DriverWebsites.com, CM Rock, Brown and Miller, Pro Shocks, Ben Cook, Bell Helmets, Burnett's Rock and Landscaping, Octane Ink, Morgan Strawberry Farms, Dynasty Stucco, Aurora Rod Ends, Crow Safety, KSE Steering, Snyder Lawn & Landscaping, Strange Performance, Saldana Racing Products, Scribner Plastics, Waterman Fuel Pumps, Butlerbuilt and Mote Fasteners.
Photos: TMAC charged from 19th to third in the McColloch #17 Friday (Paul Trevino Photo)
Bill Wright
Bill W Media
Monroe, IA USA
sprntcar@hotmail.com
Twitter: @BillWMedia
Website: www.OpenWheel101.com
Back to News