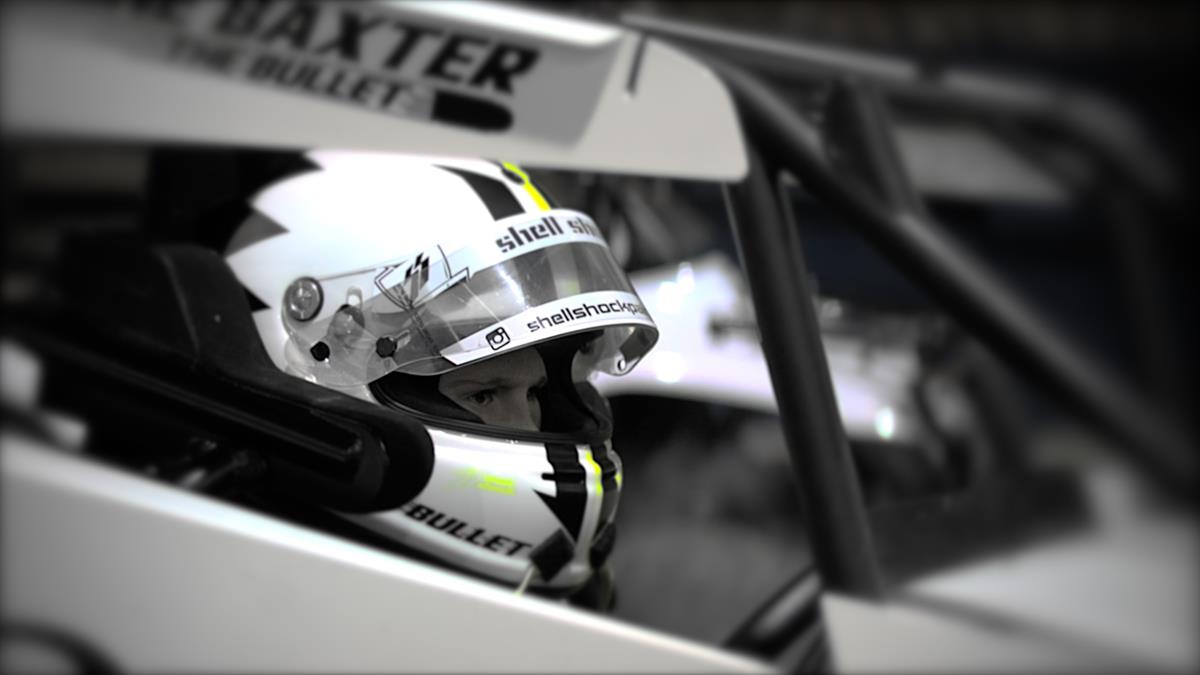 3/19/2018
Inside Line Promotions
---
Baxter Moves Up to Micro Sprints After Recovering From Serious Racing Injury
Inside Line Promotions – SANTA ROSA, Calif. (March 19, 2018) – Blaine Baxter is moving forward in a new direction with his racing career only one year after being critically injured in a racing accident.
The 10-year-old will move up from go-karts, which he has raced since he was 4-years-old, to compete full time in the Restricted Winged Micro Sprint division. It caps an incredible journey and recovery from a freak accident in February 2017 that saw him nearly lose his right arm.
"Blaine is an amazing kid and we are very proud of the way he has handled his injury, recovery and his continued desire to race," said his father and former racer, Dustin Baxter. "We are super blessed for his recovery from the accident and he's excited about moving forward in racing."
While Dustin Baxter did his best to insure his son's safety on the track, a minor oversight led to a fluke incident involving the youngster.
"We've always been very adamant about Blaine's safety equipment since he first started racing when he was 4-years-old," Dustin Baxter said. "We've worked closely with Jeannie Butler at ButlerBuilt from the beginning and had a custom seat built for Blaine. We provide him with the best safety equipment available.
"Blaine had gotten in and out of his kart probably a thousand times already in his career before the day of his accident. Both he and I check and double-check safety items each time. But for some reason that day we didn't notice that his right arm restraint didn't get clipped in. It eventually got caught in the running gear and basically ripped his arm off just below the elbow.
"He was air-lifted to Fresno, where they were going to amputate it. But I wouldn't let them. We went through all the hospitals in the Bay Area and eventually found a home for him at Stanford, where they would attempt to save his arm."
Blaine Baxter spent the next four weeks in intensive care while enduring a dozen surgeries.
"They took a nine-by-10 inch piece of muscle from his back and used it to rebuild his arm," Dustin Baxter said. "Following a grueling period of physical therapy, his arm is now pretty much fully functional. If you didn't know he had been injured, you wouldn't notice anything different about his arm other than the scarring."
Blaine Baxter's progression into micro sprints will follow a successful stint in karts, in which he won a number of features, a pair of Rookie of the Year Awards and a couple of top-three finishes in points despite racing against those older than him.
"He was just hitting his stride in karts when his accident occurred," Dustin Baxter said. "He was always very young compared to his competitors because we moved him up, trying to avoid some of the politics involved with racing in those age groups."
Blaine Baxter returned to the track last November, nine months to the day following his accident. Two weeks later, he made his first start in a micro sprint and won.
"Blaine quickly became comfortable with driving a micro sprint," Dustin Baxter said. "He felt that was because it was slower than the kart he had been racing. That's helped to make us optimistic in looking forward to this year."
The team has approximately 45 races scheduled for 2018 and plan to compete in the four-track, 16-round King of California Micro Sprint Series plus some USAC events as well as at local races with Delta Speedway in Stockton, Calif., and Dixon Speedway in Dixon, Calif., considered as their home tracks.
The season kicks off this Friday at Plaza Park Raceway in Visalia, Calif., and Saturday at Lemoore Raceway in Lemoore, Calif., with the King of California Micro Sprint Series.
UP NEXT –
Friday at Plaza Park Raceway in Visalia, Calif., and Saturday at Lemoore Raceway in Lemoore, Calif., with the King of California Micro Sprint Series
MEDIA LINKS –
Website: http://blainebaxterracing.com
Twitter: https://twitter.com/blainebaxter25
Facebook: https://www.facebook.com/BlaineBaxterRacing
SPONSOR SPOTLIGHT – Westside Mechanical
Westside Mechanical, located in Santa Rosa, Calif., is a plumbing and fire sprinkler business that provides residential and commercial repair and installation. It can be reached at 707-546-3860.
"Jerry Lewis, the owner of Westside Mechanical, passed away just a few months ago," Dustin Baxter said. "He was a long-time supporter of Blaine and his racing. He is greatly missed and Blaine will be doing his best to win races in memory of Jerry this year."
Blaine Baxter Racing would also like to thank Dirt Co Media House, Les Schwab Tires, Dustin Davis Demolition, ButlerBuilt Professional Seat Systems, FK Shocks, Shell Shock, Blackbeard, Arai Helmets, Simpson Fire Suits, D1 Chassis and Wraps N Motion for their continued support.
INSIDE LINE PROMOTIONS –
Inside Line Promotions specializes in affordable public relations and media management for motor sports drivers, teams, sponsors, tracks, series, events, organizations and manufacturers. ILP Founder Shawn Miller leverages professional journalism with new media technologies and social networking to improve your exposure and the return on investment for your sponsors.
To meet the media relations needs of your program by joining Team ILP, contact Shawn at 541-510-3663 or Shawn@InsideLinePromotions.com. For more information on Inside Line Promotions, visit http://www.InsideLinePromotions.com.
---
Article Credit: Inside Line Promotions
Submitted By: Shawn Miller
Back to News