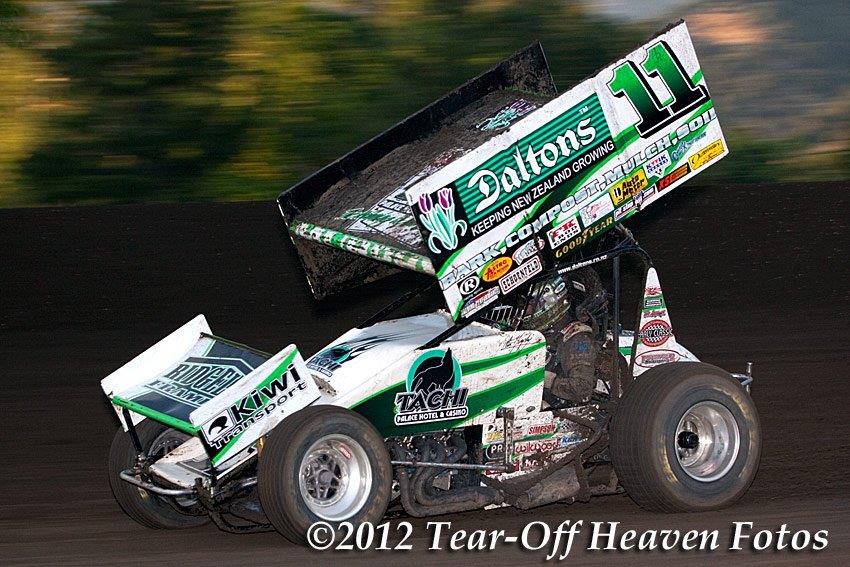 ---
Peter Murphy & Bud Kaeding interviews, Kings Speedway highlights & more
(Peter Murphy finished 5th last week in Hanford and will be a guest on "KWS Tonight" this Thursday. Photo by Steve Lafond)
Peter Murphy & Bud Kaeding interviews/ "Road to Dirt Cup" Preview/ Kings Recap
"The Road to Dirt Cup" is just one day away and the "KWS Tonight" team will be on the air this evening to get everyone geared up for two big nights of King of the West action this Friday and Saturday at Silver Dollar Speedway and Southern Oregon Speedway.
To view the show log onto http://www.kwssprints.com starting at 7pm pst on Thursday. It will then replay on the homepage to watch at your leisurely pleasure over the next week. You can also see the show directly on the "KWS Tonight" Vimeo page at http://vimeo.com/user10076991
We will also give a rundown of the "Pombo/Sargent Classic" and recap what was a thrilling main event at Kings Speedway last Saturday. The race saw a last lap tussle for the win and had fans on the edge of their seats all race long.
Featured interviews on the show this week will include Hanford winner and three-time USAC Silver Crown Series champion Bud Kaeding of Campbell. The second generation driver will discuss his year and how his life has changed since becoming a father a few years ago.
In addition to Kaeding, Clovis, CA's Peter Murphy will also call-in after picking up a season-best fifth place finish last weekend at Kings Speedway. The likable driver currently stands seventh in the KWS standings and we'll get his thoughts on the season as we sit at the halfway point.
"The Road to Dirt Cup" events this weekend will mark the 10th and 11th races of the season and as mentioned will include invading stars Shane Stewart and Jimmy Sills. The Cancen Oil KWS Series presented by Goodyear will jump start the week, which concludes with the 41st annual "Jim Raper Memorial Dirt Cup" at Skagit Speedway.
Don't miss the "Road to Dirt Cup" and for more info on the KWS portion of the week please log onto http://www.silverdollarspeedway.com and http://www.sospeedway.com
Finally we'll talk more about the three-day championship banquet weekend on November 9, 10 and 11 at the Jackson Rancheria Casino Resort. KWS Managing Director Dan Simpson will be on the show this week and will talk about the event, along with some special announcements for teams that support the series.
You won't want to miss the show this week, as we have a great one on deck. As always once again "KWS Tonight" will be available on the website to watch 24/7.
Don't forget to "like" the Cancen Oil King of the West Series presented by Goodyear on Facebook at http://www.facebook.com/kingofthewestsprints and follow us on Twitter @kwssprintracing for the most timely and up to date information on the series. Be sure to catch archived shows of "KWS Tonight" at our website http://www.kwssprints.com
---
Article Credit: Gary Thomas
Submitted By: Gary Thomas
Back to News