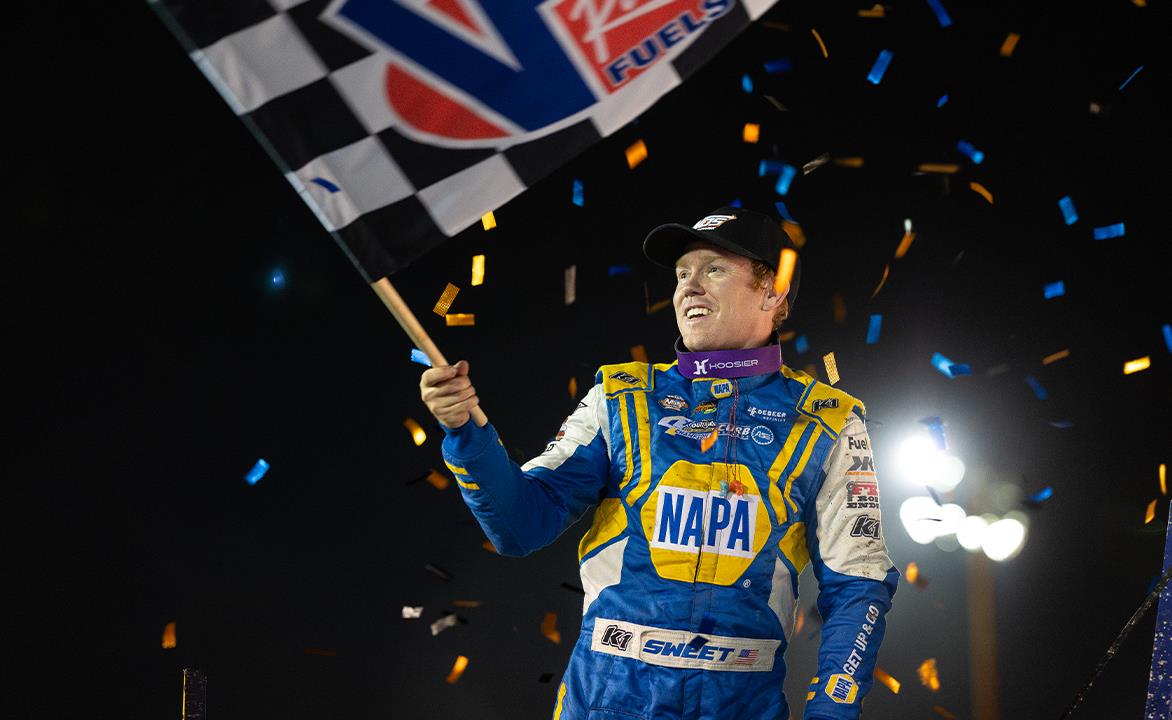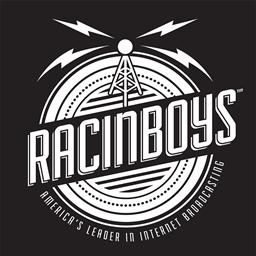 ---
Brad Sweet survives wild feature to top Tom Tarlton Classic
By Alex Nieten, WOO Sprint Series PR (Hanford, CA) -- Friday's Tom Tarlton Classic proved to be a battle of California in several ways. A California native who now shines on the national stage. A driver who has tested the waters outside the state in recent years. And "The Golden State's" top young talent all battling for a $21,000 check at Kings Speedway.
After some sliders, jockeying for spots, and a little contact, it was Brad Sweet emerging victorious to top a wild night at the Hanford, CA oval. The Grass Valley, CA native drove around early race leader Cole Macedo and fended off a late race challenge from Corey Day to secure a trip to Victory Lane in the race that salutes a legendary California car owner.
PHOTO CREDIT: Trent Gower
"Just happy to get a win," Sweet said. "These are never easy to come by. There's a lot of attrition in these races. It takes a great race car and a great race team, and we have all of that. Just happy to get out of here with a win and on to Placerville tomorrow night."
The win marked Sweet's first at the 3/8-mile in World of Outlaws NOS Energy Drink Sprint Car competition in his seventh attempt. The four-time and defending Series champion notched his 87th World of Outlaws victory, breaking a tie with current championship rival – David Gravel – for ninth on the all-time list.
Cole Macedo and Sweet led the field to green, and Sweet nosed ahead to lead the opening circuit of the 35-lap Feature.
Sweet controlled the opening laps as a couple cautions slowed the early pace. Then on one of the restarts, Macedo gathered the momentum to challenge Sweet. While the Kasey Kahne Racing #49 opted for the bottom line all the way around, Macedo found speed on the top of Turns 3 and 4. On Lap 6, Macedo blasted by Sweet heading toward the finish line to take over the lead.
Over the next handful of laps, Macedo maintained the top spot but couldn't pull away from Sweet. Behind the top two a fast closing Corey Day was in search of a second straight World of Outlaws win. He managed to slide by Sweet for second but Sweet quickly crossed over.
The leaders began to navigate traffic as they neared the halfway point. Then on the 17th circuit, Macedo got tripped up trying to lap a slower car, allowing both Sweet and Day to slip by heading down the back straightaway.
Macedo's misfortune quickly shifted the battle for the lead to Sweet and Day. Sweet remained committed to the low side, and like Macedo earlier in the race, Day looked to the cushion in Turns 3 and 4 for momentum. But the bottom in Turns 1 and 2 is where a gap opened for Day as Sweet slipped up in traffic. Day caught the grip on corner exit and rolled by for the lead.
But owning the top spot would be short lived as the yellow flag flew for Tim Kaeding slowing to a stop, negating Day's pass and returning the lead to Sweet.
On the ensuing restart, the battle for the lead resumed. With only 10 laps remaining, Day peeked to Sweet's outside down the front straightaway but couldn't clear him. After that attempt, "The Big Cat" began to creep away as the laps dwindled.
Lapped traffic again became a factor as Day reeled in Sweet for one final challenge. Then with four laps to go, calamity struck. Day nosed inside Sweet as they entered Turn 1. The two touched tires as they both aimed for the grip on the bottom. The contact resulted in Day spinning and the yellow flag flying.
With clean air ahead, Sweet pulled away unchallenged on his way to victory and a $21,000 paycheck. The defending champion was quick to offer praise to his competition.
"How about Corey Day?" Sweet said. "A 17-year-old from down in this area. He's something special. He gave me everything he had. I think he actually had a better car tonight. We were fighting for the bottom there, and he got in there a little late and we touched wheels. I hate that we couldn't race it out to the end."
On the last lap, David Gravel snuck into second to grab the runner-up spot. The result marked his Series-best 27th World of Outlaws podium of the 2023 season aboard the Big Game Motorsports #2. Gravel noted that a couple early mistakes and a shortage of laps might've prevented him from posing a challenge to Sweet for the win.
"I thought there was a little bit more grip early on, and I just missed the bottom a couple times and lost track position," Gravel said. "It got really slow and technical there, and after the checkered (flag), I kind of went through the middle and wished I'd maybe tried that… I thought we had a pretty good car. I felt like in the bottom of (Turns) 3 and 4, I was the only guy that could hit it good consistently while everybody else gave up on it and I had my own lane down there. I just kind of ran out of time."
Rounding out the top three and leading the way for the California locals was Fresno, CA's Dominic Scelzi. He surged as high as second late in the going and looked as if he may challenge for the win but couldn't hold back Gravel at the end. The brakes fading on the Scelzi Motorsports #41 hampered his bid to collect his first World of Outlaws triumph.
"I just wore out my brakes," Scelzi admitted. "You had to slow down quite a bit into (Turn) 1, and I was not being nice to them. I kind of just burnt them off, and I was trying to pump and could never really get them back. Brad had such a good start, and I wanted to try to just float the middle like I did the restart before and try to do a Hail Mary. At the end of the day, I would rather crash than run second. I want to win one of these races more than I want to breathe."
Rico Abreu and Carson Macedo completed the top five.
A 22nd to 10th drive gave Donny Schatz the KSE Racing Hard Charger.
Buddy Kofoid earned his second Simpson Performance Products QuickTime Award of 2023 in Low-E Insulation Qualifying.
CASE No.1 Engine Oil Heat One went to Buddy Kofoid (15th Heat Race win of career). NOS Energy Drink Heats Two through Four were picked off by Carson Macedo (112th of career), Brad Sweet (233rd of career), and James McFadden (49th of career).
Cole Macedo topped the Toyota Racing Dash.
Giovanni Scelzi won the Micro-Lite Last Chance Showdown.
The Smith Titanium Brake Systems Break of the Race went to Corey Day after the late contact turned his potential victory into a 17th place finish.
UP NEXT: The World of Outlaws NOS Energy Drink Sprint Cars complete the 2023 west coast swing with the highly anticipated return to Placerville Speedway on Saturday, September 16 for the Federated Auto Parts 49er Gold Rush Classic. For tickets, CLICK HERE.
If you can't make it to the track, catch all of the action live on DIRTVision.
RESULTS
NOS Energy Drink Feature (35 Laps): 1. 49-Brad Sweet[2]; 2. 2-David Gravel[3]; 3. 41S-Dominic Scelzi[4]; 4. 24-Rico Abreu[10]; 5. 41-Carson Macedo[6]; 6. 21-Cole Macedo[1]; 7. 83JR-Michael Kofoid[7]; 8. 83-James McFadden[8]; 9. 17-Sheldon Haudenschild[9]; 10. 15-Donny Schatz[22]; 11. 2X-Justin Sanders[15]; 12. 17W-Shane Golobic[14]; 13. 1S-Logan Schuchart[16]; 14. 3Z-Brock Zearfoss[11]; 15. 18-Giovanni Scelzi[21]; 16. 1T-Tanner Holmes[13]; 17. 14-Corey Day[5]; 18. 6-Tim Kaeding[17]; 19. 5-Spencer Bayston[12]; 20. 88N-DJ Netto[24]; 21. 57W-Chase Randall[23]; 22. 7S-Robbie Price[18]; 23. (DNF) 0-Jonathan Allard[20]; 24. (DNF) 3-Kaleb Montgomery[19]
MicroLite Last Chance Showdown (12 Laps): 1. 18-Giovanni Scelzi[1]; 2. 15-Donny Schatz[3]; 3. 57W-Chase Randall[2]; 4. 88N-DJ Netto[6]; 5. 7B-Sean Becker[9]; 6. 17M-Kalib Henry[5]; 7. 88A-Joey Ancona[8]; 8. 115-Nick Parker[7]; 9. 5V-Colby Copeland[10]; 10. 2K-Gauge Garcia[12]; 11. 20G-Noah Gass[14]; 12. 7-Ashton Torgerson[13]; 13. 5D-Connor Danell[11]; 14. (DNF) 24X-Chase Johnson[4]; 15. (DNF) 3AU-Karl Hoffmans[16]; 16. (DNS) 121-Caeden Steele
Toyota Dash (6 Laps): 1. 21-Cole Macedo[2]; 2. 49-Brad Sweet[1]; 3. 2-David Gravel[4]; 4. 41S-Dominic Scelzi[3]; 5. 14-Corey Day[6]; 6. 41-Carson Macedo[8]; 7. 83JR-Michael Kofoid[5]; 8. 83-James McFadden[7]
Case No1 Engine Oil Heat 1 (8 Laps): 1. 83JR-Michael Kofoid[1]; 2. 41S-Dominic Scelzi[2]; 3. 17-Sheldon Haudenschild[4]; 4. 1T-Tanner Holmes[3]; 5. 6-Tim Kaeding[6]; 6. 15-Donny Schatz[8]; 7. 18-Giovanni Scelzi[5]; 8. 7B-Sean Becker[7]; 9. 7-Ashton Torgerson[9]
Heat 2 (8 Laps): 1. 41-Carson Macedo[2]; 2. 14-Corey Day[3]; 3. 24-Rico Abreu[1]; 4. 17W-Shane Golobic[4]; 5. 7S-Robbie Price[5]; 6. 24X-Chase Johnson[8]; 7. 88N-DJ Netto[7]; 8. 5V-Colby Copeland[6]; 9. (DNF) 20G-Noah Gass[9]
Heat 3 (8 Laps): 1. 49-Brad Sweet[2]; 2. 2-David Gravel[1]; 3. 3Z-Brock Zearfoss[4]; 4. 2X-Justin Sanders[6]; 5. 3-Kaleb Montgomery[3]; 6. 57W-Chase Randall[5]; 7. 115-Nick Parker[8]; 8. 5D-Connor Danell[9]; 9. (DNF) 121-Caeden Steele[7]
Heat 4 (8 Laps): 1. 83-James McFadden[1]; 2. 21-Cole Macedo[2]; 3. 5-Spencer Bayston[4]; 4. 1S-Logan Schuchart[5]; 5. 0-Jonathan Allard[3]; 6. 17M-Kalib Henry[6]; 7. 88A-Joey Ancona[7]; 8. 2K-Gauge Garcia[8]; 9. 3AU-Karl Hoffmans[9]
LowE Insulation Qualifying: 1. 83JR-Michael Kofoid, 00:13.564[34]; 2. 24-Rico Abreu, 00:13.572[14]; 3. 2-David Gravel, 00:13.607[15]; 4. 83-James McFadden, 00:13.650[32]; 5. 41S-Dominic Scelzi, 00:13.809[36]; 6. 41-Carson Macedo, 00:13.848[6]; 7. 49-Brad Sweet, 00:13.859[23]; 8. 21-Cole Macedo, 00:13.859[10]; 9. 1T-Tanner Holmes, 00:13.866[18]; 10. 14-Corey Day, 00:13.877[8]; 11. 3-Kaleb Montgomery, 00:13.891[20]; 12. 0-Jonathan Allard, 00:13.899[21]; 13. 17-Sheldon Haudenschild, 00:13.915[19]; 14. 17W-Shane Golobic, 00:13.950[16]; 15. 3Z-Brock Zearfoss, 00:13.964[27]; 16. 5-Spencer Bayston, 00:13.969[31]; 17. 18-Giovanni Scelzi, 00:13.978[11]; 18. 7S-Robbie Price, 00:13.980[25]; 19. 57W-Chase Randall, 00:13.994[28]; 20. 1S-Logan Schuchart, 00:14.011[4]; 21. 6-Tim Kaeding, 00:14.018[26]; 22. 5V-Colby Copeland, 00:14.018[35]; 23. 2X-Justin Sanders, 00:14.119[7]; 24. 17M-Kalib Henry, 00:14.128[29]; 25. 7B-Sean Becker, 00:14.153[17]; 26. 88N-DJ Netto, 00:14.160[12]; 27. 121-Caeden Steele, 00:14.165[13]; 28. 88A-Joey Ancona, 00:14.265[30]; 29. 15-Donny Schatz, 00:14.277[1]; 30. 24X-Chase Johnson, 00:14.342[9]; 31. 115-Nick Parker, 00:14.480[22]; 32. 2K-Gauge Garcia, 00:14.527[2]; 33. 7-Ashton Torgerson, 00:14.548[5]; 34. 20G-Noah Gass, 00:14.681[24]; 35. 5D-Connor Danell, 00:14.923[33]; 36. 3AU-Karl Hoffmans, 00:14.995[3]
=======================================================================================================================
WESTERN RACESAVER 305'S
A Feature 1 (20 Laps): 1. 2-Brooklyn Holland[1]; 2. 38N-Kyle Rasmussen[3]; 3. 5-Cole Danell[4]; 4. 31H-Phil Heynen[10]; 5. 11-Blaine Fagundes[13]; 6. 07-Jesse Burks[9]; 7. 12E-Brandon Emmett[5]; 8. 75-Jerome Warmerdam[6]; 9. 3P-Davey Pombo Jr[8]; 10. 53-KC Weikle[12]; 11. (DNF) 36B-Kevin Barnes Sr[11]; 12. (DNF) 11AU-Bryan Murphy[7]; 13. (DNF) 10-Mauro Simone[14]; 14. (DNF) 12K-David Knott[16]; 15. (DNF) 15-Rino Felicioni Visal[15]; 16. (DNF) 22-Grant Duinkerken[2]
Heat 1 (6 Laps): 1. 2-Brooklyn Holland[1]; 2. 3P-Davey Pombo Jr[4]; 3. 36B-Kevin Barnes Sr[5]; 4. 12E-Brandon Emmett[3]; 5. 11-Blaine Fagundes[2]; 6. (DNF) 15-Rino Felicioni Visal[6]
Heat 2 (6 Laps): 1. 22-Grant Duinkerken[1]; 2. 5-Cole Danell[2]; 3. 75-Jerome Warmerdam[3]; 4. 07-Jesse Burks[4]; 5. 10-Mauro Simone[5]; 6. (DNF) 12K-David Knott[6]
Heat 3 (6 Laps): 1. 38N-Kyle Rasmussen[1]; 2. 31H-Phil Heynen[4]; 3. 11AU-Bryan Murphy[3]; 4. 53-KC Weikle[5]; 5. (DNS) 86-George Tristao Jr
---
Submitted By: Kirk Elliott
Back to News