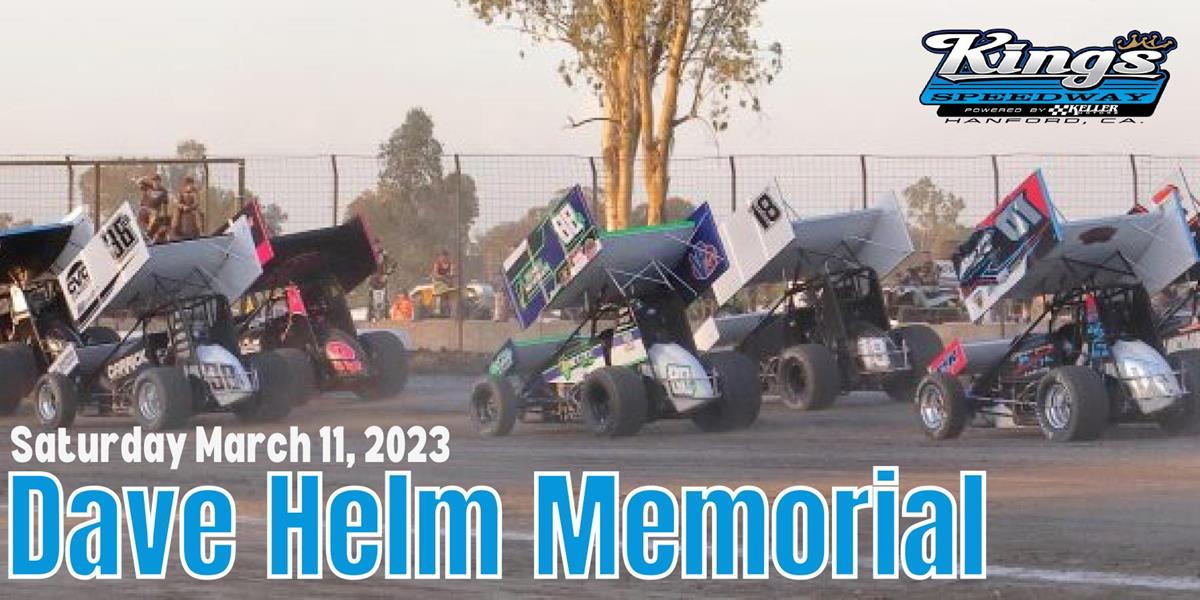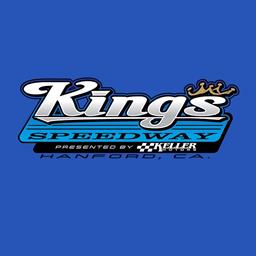 ---
DAVE HELM MEMORIAL
Unique format awaits Winged Sprint Car teams at Kings Speedway on March 11th
Hanford, CA…The newly rebranded Kings Speedway powered by Keller Motors will begin a fresh season on Saturday March 11th and during it, Winged Sprint Car teams and race fans will have something unique to get ready for.
The night of racing is coined as the "Dave Helm Memorial Kings Challenge" and will see both Winged 410 and Winged 360 Sprint Cars competing together, not just on the same night, but in the same race as well.
"This is an idea we came up with to add some intrigue and invite both 410s and 360s to come have some fun at Kings Speedway," commented track Promoter Peter Murphy. "We are kind of taking a page out of Australia and New Zealand but adding our own personal twist on it. We always talk about how we're in the entertainment business and to keep growing you have to try new things, so we're going to give it a go for the first time on March 11th."
As noted, regardless if a team is utilizing a 410ci or 360ci powerplant, they'll be competing against each other all evening long on March 11th. Details on the event will be as follows.
Purse Details:
The 20-car Winged Sprint Car feature event will showcase a 25-lap contest and hand out $3,000-to-win/ $500-to-start.
The four highest finishing Winged 360s will earn bonuses of $400, $300, $200 and $100 respectively. If a 360 wins the race however, they'll walk away with a $600 bonus for a payday of $3,600.
If a Winged 410 Sprint Car claims the main event, they'll scoop up an $1,100 bonus, boosting their winnings to a cool $4,100.
Format:
No qualifying will be held during the night, as each driver will run a pair of heat races to gather points. Drivers will draw for starting positions in the first round of heats, which will be straight up. The second round will then be completely inverted based off starting lineups from the first set.
Rather than utilizing the standard lap count in heat races the event will take a page out of Supercross, as each heat will run for two minutes plus one lap. Yellow flag laps won't count towards the overall time. Only green flag racing will count towards the two minutes plus one lap timeframe.
There will be no work area time during heat races.
Following the conclusion of heat races, the four highest Winged 360 Sprint Cars in points will be seeded straight up into the first two rows of the 25-lap feature.
The four highest Winged 410 Sprint Cars in points following heat races will then make up starting positions 5, 6, 7 and 8 in the feature, with the high point driver starting from position eight. Remainder of the 20-car main event will be lined up based off heat race points and B-main transfers.
More details will follow as we get closer.
Tickets:
Adult tickets at Kings Speedway powered by Keller Motors on Saturday March 11th cost $20 while seniors, students and military will be $15. Juniors 6-12 cost $5 with kids five and under free. Ticket can be purchased at the gate.
Front gate opens at 4pm, with the drivers meeting scheduled for 5pm and cars on track shortly after. The pit gate will open at 1pm, with pill draw closing at 4:45. Be sure to take advantage of Pete's Pub in the pits from 4:30pm to 5:30pm with food, drinks and driver interviews on the stage.
The passing of Dave Helm in 2007 left a void in our sport that can never be filled. Dave was a graduate of Selma High School, and a veteran of the United States NAVY. In 1989, Helm established his famous Selma Shell Racing team. The #11 was vital to the Central Valley's reputation as a hotbed for Sprint Cars.
Some of the drivers that wheeled Helm's ultra-fast entries included Steve Kent, Kerry Madsen, Paul McMahan, Tim Shaffer, Lucas Wolfe, and the late Greg Hodnett. His impeccable equipment established itself as a championship contender in California before branching out to become a respected World of Outlaws traveling team.
The Kings Speedway – Powered by Keller Motors is a 3/8-mile clay oval located on the Kings County Fairgrounds in Hanford, California. The physical address is 801 S. 10th Ave. Hanford, Ca 93230.
More info can be found at www.racekingsspeedway.com or by visiting the track Facebook page at https://www.facebook.com/KingsSpeedwayOfficialSite
---
Submitted By: Social Media
Back to News