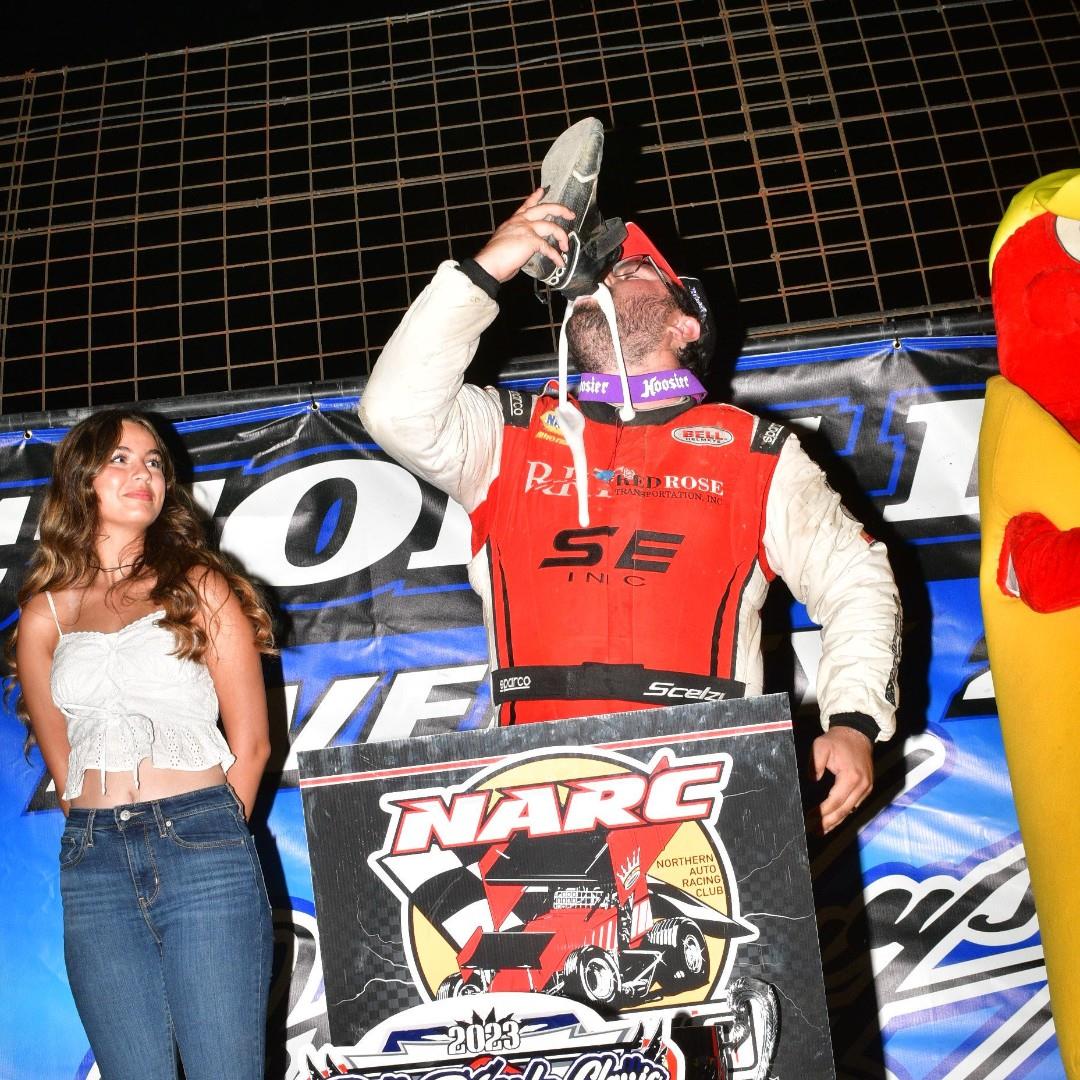 5/17/2023
Inside Line Promotions
---
Dominic Scelzi Tops Peter Murphy Classic for Third Straight Year
(Photo by Donna Peter)
Inside Line Promotions – HANFORD, Calif. (May 17, 2023) – Dominic Scelzi earned his third straight triumph during the finale of the Peter Murphy Classic last Saturday at Kings Speedway.
The victory – his third of the season and second of the year with the NARC 410 Sprint Car Series – capped a stellar weekend that included top fives in both the 410 and 360 divisions on Friday.
"It's huge," said Scelzi, who celebrated in style with a shoey. "For me, Peter is a guy who has been very, very special in my racing career as well as a great friend. He's done a lot for me. Winning as many times as we have now, it's really special. Every year I circle that race on the calendar and I expect greatness out of myself. Jimmy (Carr) has given me a perfect race car three years in a row and we've been able to deliver. Three wins in a row at the same race, you don't see that very often. I just hope we can continue this success year after year."
The opening round featured Scelzi qualifying seventh quickest on Friday to kick off the NARC competition. He then won a heat race, placed fourth in the dash and gained a position to end third in the A Main.
Scelzi was efficient in the Kings of Thunder portion of the program as well, timing in fourth quickest and winning a heat race before picking up a spot in the feature to finish fourth.
"We were really, really good all weekend long," he said. "The first night we made some changes to the car we don't normally do because of the way we thought the track was going. We struggled a little in the 410 feature, but we had a good race car. In the 360 I felt as good as the leaders, but it was tough to pass. The top and the bottom were really even."
The team improved in both divisions on Saturday as Scelzi set quick time in Sprint Car Challenge Series qualifying. He won a heat race from fourth and placed fifth in the dash. Scelzi was battling inside the top five throughout much of the main event before a flat tire sent him to the pits with a DNF.
"We just made some minor tweaks for Saturday," he said. "We didn't change a lot, but the track was a little slower. In the 360 feature we went fifth to second. I was running Corey Day down. The bleeder came out and caused the tire to go flat and explode with four laps to go."
The highlight of the weekend was the NARC action as Scelzi qualified second quickest and maneuvered from fourth to second place in a heat race. He won the pole shuffle to garner the pole position for the main event.
"We were really good," he said. "I ran the bottom and the top. I ran through the middle some as well. I got passed twice for the lead and was able to get them right back. At the end we pulled away for a five-second win. We've been really consistent and fast all year. We're a top-three car and we've been knocking off a lot of wins lately so that's been good."
Scelzi's victory was worth an $11,000 top prize and it was his fifth in the last six NARC A Mains during the Peter Murphy Classic.
Scelzi, who ranks second in the NARC championship standings, joins the series this Friday at Petaluma Speedway in Petaluma, Calif., during the Salute to the First Responders.
QUICK RESULTS –
May 12 – Kings Speedway in Hanford, Calif. (410 sprint car) – Qualifying: 7; Heat race: 1 (2); Dash: 4 (4); Feature: 3 (4).
May 12 – Kings Speedway in Hanford, Calif. (360 sprint car) – Qualifying: 4; Heat race: 1 (1); Feature: 4 (5).
May 13 – Kings Speedway in Hanford, Calif. (410 sprint car) – Qualifying: 2; Heat race: 2 (4); Pole shuffle: 1 (2); Feature: 1 (1).
May 13 – Kings Speedway in Hanford, Calif. (360 sprint car) – Qualifying: 1; Heat race: 1 (4); Dash: 5 (3); Feature: 19 (5).
SEASON STATS –
12 races, 3 wins, 9 top fives, 10 top 10s, 10 top 15s, 12 top 20s
UP NEXT –
Saturday at Petaluma Speedway in Petaluma, Calif., for the Salute to First Responders with the NARC 410 Sprint Car Series
MEDIA LINKS –
Website: http://www.GaryScelziMotorsports.com
Twitter: https://twitter.com/DominicScelzi41
Facebook: https://www.facebook.com/Scelzi41
SPONSOR SPOTLIGHT – Fuel Delivery Services, Inc.
Based in Stockton, Calif., Fuel Delivery Services, Inc., is a premier bulk transporter of refined petroleum products. For more information, visit http://www.FuelDeliveryServices.net.
"Mike with Fuel Delivery Services is a great guy who wants to see us do well and make it in racing," Scelzi said. "We really appreciate his support and look forward to the continued success with Fuel Delivery Services."
Scelzi would like to thank Red Rose Transportation, Inc., Scelzi Enterprises, Whipple Superchargers, System 1, Fuel Delivery Services, Inc., Red Line Oil, FK Rod Ends, Schoenfeld Headers, Roth Motorsports, K&N Filters, Brown & Miller Racing Solutions, NAPA Auto Parts, Todd Jorgensen, Sparco, Allstar Performance, Meridian Steel, Auto Meter, Kenny's Components and Worldwide Bearings for their continued support.
INSIDE LINE PROMOTIONS –
Inside Line Promotions specializes in affordable public relations and media management for motor sports drivers, teams, sponsors, tracks, series, events, organizations and manufacturers. ILP Founder Shawn Miller leverages professional journalism with new media technologies and social networking to improve your exposure and the return on investment for your sponsors.
To meet the media relations needs of your program by joining Team ILP, contact Shawn at 541-510-3663 or Shawn@InsideLinePromotions.com. For more information on Inside Line Promotions, visit http://www.InsideLinePromotions.com.
---
Article Credit: Inside Line Promotions
Submitted By: Shawn Miller
Back to News